Growing a Garden with Kids  
Growing a Gardening is an awesome thing to do on your own, but growing a garden with your kids is an awesome family event that will last all summer long (maybe even all year long?). Kids love to explore the world outside and are excited at discovering new things, so teaching them how to grow their own vegetables in a gardening project can be really fun for everyone! Teaching children where food comes from, as well as learning about what's good or bad for us on our plates, could also teach important life lessons of responsibility and healthy habits later in life.
There are many things you can grow in a garden for kids.
The first thing you want to do is talk to your kiddo about what they want to grow and let them choose a few things. You can make the experience of gardening fun for kids by letting them help plan what will be planted. Kids are more likely to eat spinach or kale if they helped pick it out and plant it themselves!
The following list outlines some of the fastest-growing plants suitable for small hands. Larger seeds are easier to handle.
The best advice to give when selecting a plant is to find something that appeals on as many levels as possible, ensuring it will keep your child's interest longer and be easier in terms of care. The following list includes just a few easy choices: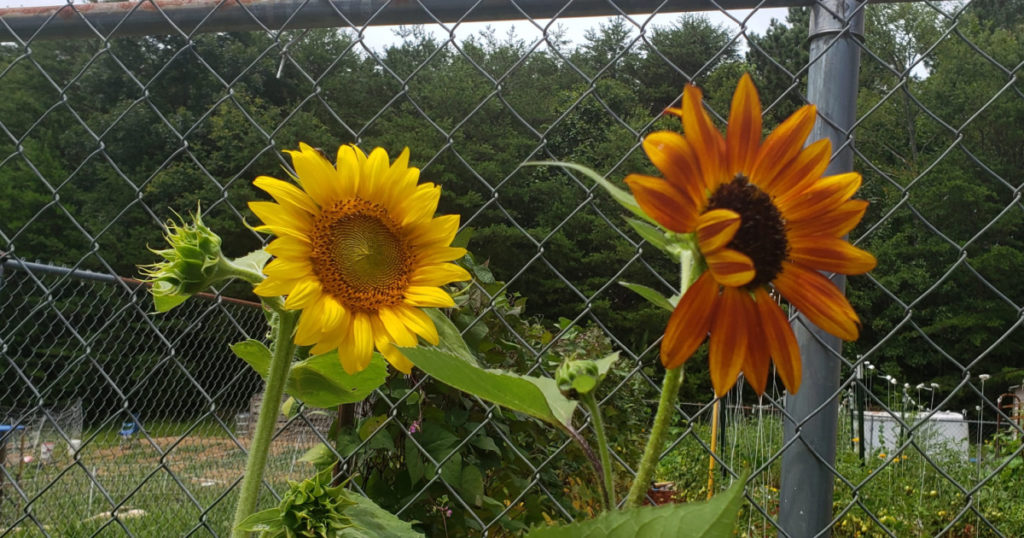 Sunflowers: Sunflowers are an easy starter plant, and they help bring bees and birds into your garden which will make it even more gorgeous! I love planting them around the edges of my garden because then you'll be able to enjoy all their beauty from wherever you're standing or sitting on our property- plus, these pollinators play such an integral part during this process! We recommend that before trying anything new with seeds like sunflower plants, research what type can thrive best where there's soil available so that nothing goes wrong.
Pole beans and snap peas are the perfect starter for kids as they grow quickly. After you harvest them, they will continue to grow more vegetables that can be harvested all throughout the season so your family won't run out for a while!
Radishes and marigolds are two of the most popular starter plants for beginners because they grow quickly and can withstand some rough handling from little hands while learning how to garden. Carrots, zucchini, and pumpkins fall into this category as well-allowing you to be more adventurous at planting time.
Helping kids Start from Seeds
Kids will love learning the basics of gardening, but they'll need to be patient. Planting seeds is only a single step in cultivating plants and growing food!
Starting from seedlings is an easy way for kids and adults alike to grow their own produce at home- especially if there is limited space or even just someone with little time on his hands each day. But as anyone who has ever worked with dirt can tell you: patience is key when tending anything that grows out of earth (or any other substance).
When you have the right soil, all it takes is planting a few seeds to get your plants going. This spring and summer project can be done with kids of any age! All they need are seedlings that come in packs from just about anywhere – Tractor Supply or even at their local nursery.
When you have the right soil, all it takes is planting a few seeds to get your plants going. This spring and summer project can be done with kids of any age! All they need are seedlings that come in packs from just about anywhere – Tractor Supply or even at their local nursery.
Learning how to get the soil just right and what type of plant starter best suits each little sprout before getting them planted will keep those bored kiddos occupied.
 Buying Seedlings  
Buying seedlings from your local farmer's market or nursery is another affordable way to start a young gardener's experience. It can be an exciting trip, and you'll get the chance to show them how to pick out the heartiest looking seedlings. You will also have fun explaining how important it is for their soil preparation before they plant any of these plants! Additives are available at most nurseries in case one ever needs help with nourishing their garden so that it remains healthy over time.
When do you start your kids gardening?
Kids of all ages can help with gardening! There are some basic skills that are important to have (or learn) before digging in, but even toddlers can help with dropping in seeds, weeding, or harvesting.
You will definitely want to find out what garden zone you are in, but most zones will start preparing their garden and seedlings in February. You can let your children get the seeds started indoors. This is SOO educational as they can watch first hand the germination process and how growing seeds work. This way they can see the whole lifecycle of their plants from seeds to flower to fruit.
Weeding is a GREAT task to let your kiddos help with. It will save your back and provide a great lesson for them as well. Most kids will enjoy getting their hands in the dirt. Once it is time to plant the sprouts outside, they can assist with that task too. Teach them how big of a hole to dig and how to water a seedling for the best results. 
Finally, be sure to let them enjoy the fruits of their labor. Harvest time is very rewarding and will give them something to feel accomplished about. There is no greater joy than spending time with your children while teaching them a life skill they will keep for the rest of their lives. Your kids can look back and cherish those beautiful moments, even when they are grown with kids of their own!
Now for the giveaway:
---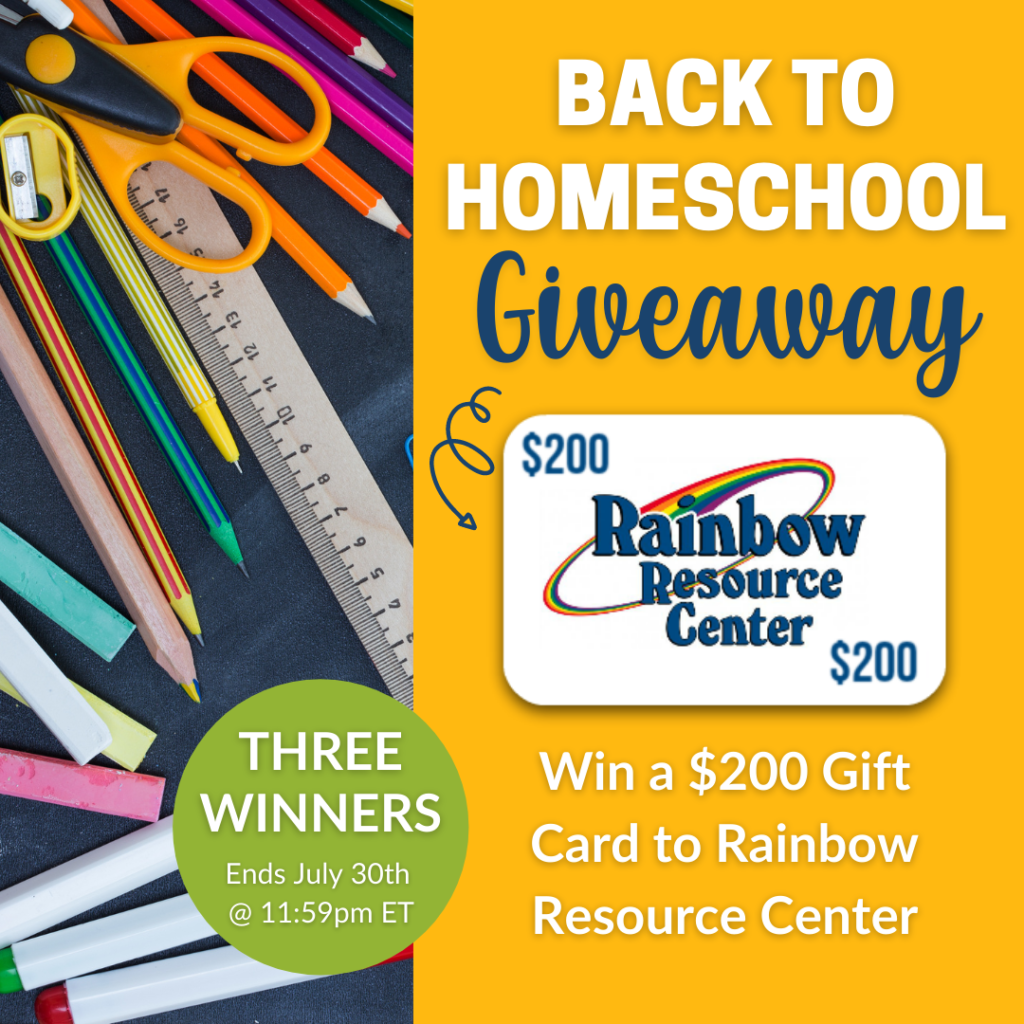 Another (home) school year is about to start! Many homeschool moms are busy preparing and finalizing curriculum choices for the upcoming school year. And many are trying to stick to their tight homeschool budget, hoping it will cover all the books and resources they will need.
We know homeschooling can put financial strain on families – whether it's from living on one-income or buying curriculum for multiple children – the financial aspect of it can be stressful.  Our hope is that we can bless a few homeschool families (although we wish we could bless many more) so they can buy curriculum, books, games, puzzles, or whatever educational supplies they might need, with a little less stress.
Winning a gift card to a major online homeschool retailer would surely help you check some things off of your curriculum wish list. Well, I've gotten together with a great group of homeschool bloggers to bring you a chance to do just that!
Three homeschool families will win a $200 gift card to Rainbow Resource Center!!
To enter for your chance to win, simply use the Rafflecopter form below to enter.  Now I know this is quite a few entries, but each of these bloggers has generously chipped in their own money to make this giveaway possible, so I hope you will take the time to do all of the entries.  And hey, the more entries you do, the better your odds are of winning!
Giveaway ends July 30, 2021 at 11:59pm ET. Must be at least 18 years of age. Must be a resident of U.S. or Canada to enter. Selected winners will have 48 hours to respond to email notification to claim their prizes or another winner will be drawn. By entering this giveaway, you agree to be added to the email lists of the participating bloggers (see the Terms & Conditions on the Rafflecopter form for the complete list).